A rather large part of the population in various countries is lately feeling called upon to demonstrate, writes Bhagawati.
To begin with, I am not including here the Hong Kong protests which are happening for other reasons and are political in nature.
I am referring to wild gatherings of people mainly in western countries who – often in all kinds of bizarre undress or disguise – are fighting 'against'. Against what, is often not clear. They will talk about CHANGE but it isn't always obvious what that CHANGE is to be about and how it can be implemented.
The other day in London, a male-looking person (allegedly a member of the Animal Rebellion, a vegan offshoot of the Extinction Rebellion movement) showed up dressed as a broccoli to fight climate change. He was interviewed by Piers Morgan, well-known British journalist and TV personality.
Morgan was visibly irritated after broccoli's refusal to explain in a bizarre TV exchange why a plant-based diet would save the planet. The man was repeatedly asked what his aims are and whether he "identifies as a broccoli", to which he replied, "I am Mr Broccoli Head. I'm just a humble broccoli. I've always been a piece of broccoli."
I didn't think that was very funny but rather a waste of time to even try for dialogue.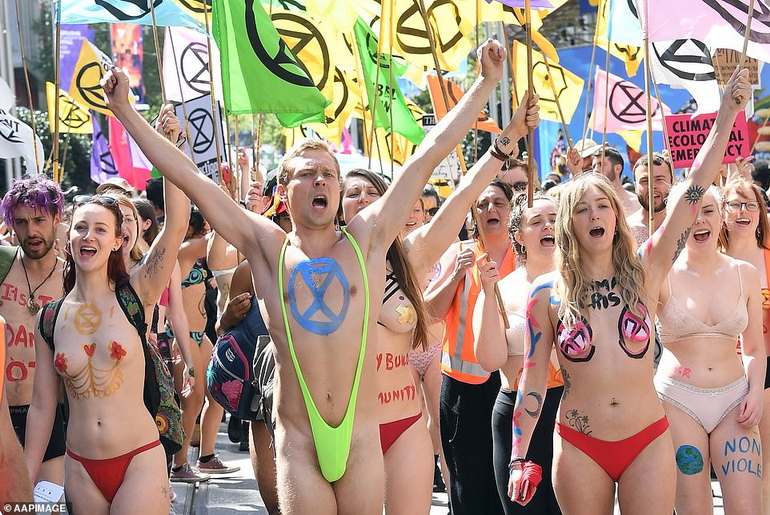 Meanwhile, Extinction Rebellion activists stripped off on Saturday as they took to the streets in Melbourne, Australia, for their sixth day of protests. As part of a 'Nudie Parade' they left very little to the imagination. Women with 'glitter boobs' and rainbow stars covering their breasts marched in protest. One woman had the words 'compost the rich' written on her body. Peace signs painted on skin reigned. A man, who was only wearing a piece of black underwear, looked like he was enjoying the day as he marched while carrying a plastic water bottle. Surely they all had a lot of fun wiggling their bits on a sunny day and then gathered at the local pub for some drinks.
Not surprisingly, the most recent incident on October 17, 2019 resulted in violence. In the name of Extinction Rebellion, a planned protest to disrupt public transport in London at Canning Town Tube station (Jubilee line) during rush hour took an unexpected turn when commuters dragged the activists off a train roof and dumped them on the ground. London Underground staff were forced to intervene to defend the protesters from the very angry crowd.
A change in gestalt is needed as such kinds of activities are ineffective. I turned to some video clips I had watched recently, featuring individuals who simply decided to do something to help others – without fanfare or marketing; they simply chose to make a difference in a variety of circumstances.
The message is clear: by taking conscious responsibility for one's actions and not lobbing responsibility onto someone else, CHANGE can and will happen – within.
The Himalayan village that confiscates single-use plastics
Lachun, in the northeastern state of Sikkim, has successfully banned single-use plastic and showcases eco-friendly alternatives.

Video by Vikas Pandey and Anshul Verma
BBC 2.10.2019
Inside the village that caters for its ageing population
Pescueza in Extremadura, western Spain, is adapting to provide for the needs of its older population through a non-profit project called Stay With Us. It aims to provide elderly residents, who make up two thirds of its population, with the services they need in the hope they can remain independent.

Video produced by Daniel South, Ashish Sharma and Alberto Garcia.
BBC 13.8.2019
How one man stopped a mega-dam and saved Borneo's rainforest
Peter Kallang spent years raising awareness of the plans among indigenous communities in the Malaysian state of Sarawak, and the wider world. After a five-year campaign the government eventually cancelled the project. Peter has now been honoured with the 2019 Seacology Prize which is awarded to people for protecting island environments.

Video produced by Trystan Young and Ly Huong
BBC 20.9.2019
Indian granny's one rupee breakfast wins hearts
Kamalaathaal has been serving up delicious meals in the southern Indian city of Coimbatore for the past 30 years – and she has not increased her prices since the day she launched her business.

Footage and reporting by BBC Tamil's Madan Prasad
Edited by Anshul Verma
BBC 14.9.2019
Crochet artist leaves flowers around town 'to make people smile'
Olivia Fletcher, 22, who has suffered from depression and has previously self-harmed, crochets flowers and leaves them in public places with positive messages attached. She said her colourful creations are "soothing" and help to distract her from negative thoughts and does it to make the world a more positive and happy place. People who have discovered the flowers have written back to her saying how much they've appreciated the kind gesture.

BBC 1.9.2019
Everything with a positive impact counts. And everybody can start, right now, here.