…left his body on 29 January 2017.
Update: Satyananda's ashes will be put into the ground on 1st April, 11am, Friedhof Damshagen. He explicitly wished "no black-clad people with serious faces." From 31st March till 2nd April there will be a weekend at Gutshaus Stellshagen in his honour. (Programme PDF – www.hierjetzt.de)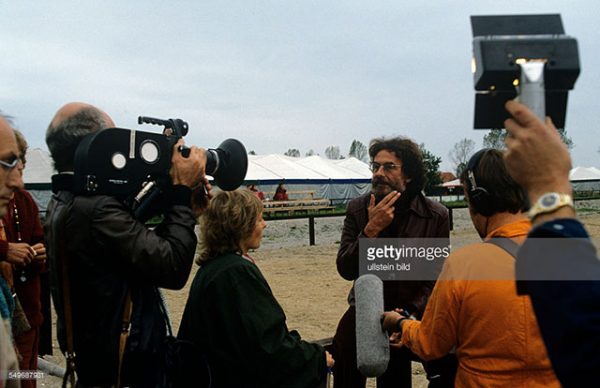 ---
His daughter Avinasho writes:
Satyananda (Jörg Andrees Elten) was born in Dresden on March 30, 1927. In 1945 he completed an emergency baccalaureate at the Napola (Nationalpolitische Erziehungsanstalt = National Political Educational Institution) in Naumburg/Saale and had to participate in the war efforts for another four months. In an exhibition in Munich, in 1948, he saw how a newspaper was made and thought this would be a good job while studying. This is how the Münchner Abendzeitung came into being and how he became a journalist.
He married Elisabeth and in 1952 his first daughter Susanne (aka Avinasho) was born. Immediately after she was born he set off for India and wrote his first book, In Allahs Hand; eine abenteuerliche Orientreise im Auto (In Allah's hand: an adventurous journey by car to the East).
In the mid-fifties he moved to Cairo (where daughter Petra was born) as a Middle East and Africa correspondent for the Süddeutsche Zeitung, and then on to Rome (where Bettina was born). Their mother was Isis, his Egyptian second wife.
At the start of the 1960s, Satyananda was head-hunted by the chief editor of Stern, Henry Nannen. His subsequent move to Hamburg was good for his career as 'the star writer' for the magazine. The family, however, fell apart.
In a kind of midlife crisis he made a trip to Poona during a reportage trip in India and discovered Osho (then Bhagwan). After taking time off from Stern to write Ganz entspannt im Hier und Jetzt (Totally relaxed in the Here and Now), a diary about his time at the ashram, he nevertheless quit his job as a journalist in Hamburg and moved to India and later also to Rajneeshpuram in Oregon, USA. Ganz entspannt im Hier und Jetzt became a bestseller and for many of its readers a reason to emigrate to India and become Osho's disciples.
It could well be that the German bourgeoisie feared a mass exodus of their intelligentsia because the then German Minister of the Interior, Friedrich Zimmermann, declared Osho without reason persona non grata in Germany and thus imposed an entry ban on him. Today, as meditation has become mainstream and is totally 'in', it is difficult to imagine how much the German sannyasins were discriminated against in the 1980s.
After the closure of the commune in Oregon, Satyananda remained in California for eight years and wrote Alles ganz easy in Santa Barbara: Leben ohne Sicherheit (Everything totally easy in Santa Barbara: life with no security) and Karma und Karriere (Karma and career).
In the mid-90s he returned to Hamburg, and then on to Stellshagen in West-Mecklenburg, Germany. Together with his wife Gitama (Martina Kaltenbach) he founded the 'Institute for Meditation and Creativity' which offers various techniques of meditation, writing and painting.
Satyananda died in his home in Stellshagen; he would have been 90 years old in March this year.
---
Dhiren writes:
Our beloved friend, Swami Satyananda, passed away quietly at home early on Sunday the 29th March. He had been in hospital earlier in the week because of a lung infection which then became complicated. He gave every ounce of his energy to try to overcome the complications which had made it difficult for him to swallow, but it was his heart, which had been weakened over the last period of time, that simply was no longer able to keep up with him. He still had various projects lined up and was in no hurry to go anywhere, but once he realised that his body was not managing any more to keep pace with his ever-vivid spirit, he seems to have simply let it go. Among his last words were, "Love is the only thing that matters."
Satyananda has been a very important presence, especially in the German speaking world because of his books and his involvement with the Osho Times. In the late seventies and early eighties, many people took sannyas because of him. His first book Ganz Entspannt im Hier und Jetzt (soon to be published in English translation as The Cosmic Madhouse) became a bestseller and created a sensation at the time. It is a fascinating account in the form of a diary of a successful journalist who leaves it all behind to live in the commune of an Indian spiritual master.
Many people will remember him for his light, friendly warmth, and his heartful presence. He lived for many years on the Ranch and then later in California, followed by his return to Germany. Two more books followed, and a collection of essays. Together with his long-term partner Gitama, he lived for more than twenty years in the quiet, idyllic countryside of Mecklenburg Vorpommern. He and Gitama began the Institute for Creativity and Meditation, which is based in Stellshagen. He led regular seminars on creative writing and meditation, and continued to write and sometimes appear on various TV shows. He is survived by his three daughters, Bettina, Petra and Avinasho.
I was waiting and waiting for you! – Satyananda's sannyas darshan
You have escaped to reality – Osho answers a question of his
Interview with Satyananda – by Ishu from the German Osho Times
Not everybody is as courageous as Satyananda – excerpts from Punya's book
Obit in Stern:
Tributes
You can leave a message / tribute / anecdote using our contact form (please add 'Satyananda' in the subject field)…
A final goodbye to a beloved friend. First, as it happened to so many of us, your book opened my heart to my own search and life with our Master, then your so very loving presence on the Ranch and later in Poona, having done your creative writing and spontaneous speaking groups there with you. So much fun, laughter, creativity, depth. I am bowing down in gratitude. Keeping all the memories lovingly in my heart. Bye for now…
Aviram
Deep gratefulness and joy for all that we shared. Love remains always…
Bhagawati
Beloved friend Satyananda, No need to mention again your achievement and the huge influence you had on the European sannyas scene; we all are forever grateful. I remember so fondly our long talks on the Ranch, our shared time with Prasad, our walks in Hamburg, the warm home you and Gitama gave me when I stayed for a while with both of you, when we were digging through pictures, writing stories together, reading, laughing… Although we lost touch the last couple of years I always felt you close and there is a place in my heart with your name written on it. Love always,
Ma Atmo Anasha
Thank you, Satyananda. We will meet again…
Anurag
Creative writing with Satyananda: cut, cut, cut….
I am learning to write creatively with Satyananda and he tells us to cut as many words as possible! Impossible, I say to myself… I hate this man, this German! I am Dutch, so there. He smiles and says cut, cut, cut to the bone this article!! He doesn't like my writing, I am getting annoyed… WTF is wrong with words?!
Vedant (that which is beyond words) Sajjad (devotee)
Thinking of you my heart smiles. I love your last words: YES, only love matters.
Thank you for all you have given to so many of us.
Sneha
Oh dearest Satyananda, So many memories for so many moons being together in Osho's Buddhafield! How well I remember you having shared many precious moments with lots of laughter and always heart to heart. With love and precious memories,
Gabriele (Ma Prem Gatha)
your book "ganz entspannt im hier und jetzt" was my bridge to osho in the early 80's, like is was for so many fellow travellers. thank you, satyananda, for your great courrage and thank you for all. farewell,
yoga ashara kuckuck
Swami Satyananda, Jörg Andrees Elten, journalist, writer, Mensch. With a brilliant sense of humor. If I remember correctly, his second wife, the Egyptian Isis – no relationship to – complained about Northern European weather by saying "In Germany summer happens on a Wednesday afternoon". Grew up in Germany at the time of Adolf I. Coroner's verdict: "Death by déjà vu".
Max Brecher
Farewell, Satyananda. So many fond memories of our times spent together…
Savita
Beloved Friend, I will always remember your sweetness and warmth.
Krishna Gopa
Beloved Satyananda,
Life, love, laughter… and sometimes tears. 40 years. Walking the path, side by side, sometimes across oceans. Soulmates. So much gratitude…
Love, love, love. Always :))
Ma Prem Astha
With great sadness I learned that Satyananda passed away.
On Jan 15, I visited him in his home, asking for advice about my writing. He was one of my heroes due to his direct style of writing and the consequences he drew in his life, enduring the outcasting by his colleagues until the end.
He was fragile, but very much alive through a 90 min session, funny, inspiring with his warm heart and his humour. And he helped me a lot with my questions, in his straightforward, bright and analytic way.
I feel very privileged to meet him and enjoy his generous and astute presence.
He has lived a full life and gave away a lot – lucky me, to have received some of it in the last moment…
Hans-Curt Flemming
Like many of us I found the way to the master via Satyananda's Ganz entspannt im Hier & Jetzt. I was not at all interested in Bhagwan in those days, 1984, until someone 'donated your book to me' – I just found it in front of my flat… From the first words I felt 'this is true', like 'I was listening for the first time in my life: truth. At the same time I knew, 'If I follow this, no stone in my life will stay where it was, everything will collapse…' So I dropped the book… took it again… drop it… took it again… Finally there was no escape… The master got me… So – Satyananda has been a GOLDEN BRIDGE to me – finally to my own self! Via Osho, Poona, Oregon… from a life as a simple handyman's daughter in Germany without any spirituals influences, to a long life passionate Osho-Lover, Osho therapist, healer, group leader, working and living for 'Meditation and truth' around the world. Thank you – for your love, your clarity, your straightness, you bridge building. A good journey into the light, fly fly high, dear Satyanand, a you will always be in my heart.
Ma Bodhi Pradeepti, Germany
I remember very well when you came to Poona I. After Eva Renzi's very short, but eventful visit in Poona, I was transferred to the press office and had to translate all the articles pouring in from German newspapers about 'The Ashram in Poona' and the 'Sex-Guru'. It was a pity that your colleagues didn't copy from your articles, but from others who wrote mostly crap about our community of meditation, laughter and tears. Over the following decades we didn't meet very often in person, but the invisible connection was obviously there. After years I called you out of the blue just about three weeks ago. You are writing your autobiography, but you had to drag yourself to the desk to write, you told me. Few days after this talk a friend from Stellshagen wrote to me that you were in hospital and that it did not look too good. Good or not good depends on the perspective. As you focused the second half of your life on that which cannot be taken away by death, I am sure that you are better off now than before and are enjoying high spirits. Now without to bother to eat, drink, and most of all: no news about the idiocies of Trump, Erdogan and all the other dark sprits that are molesting humanity these days can reach you any longer. You are blessed, soar high.
Dagmar Yachana
Beloved Satyananda,
thank you for your spirit, your light and your encouragement. So many memories… and a special thank you for the super tasty cookies and ginger tea you fed to us at the recycling yard of the Ranch. They were divine!
With love and gratefulness,
Pramada
Thanks a lot for everything, Satyananda.
You left eternal footprints.
May you rest in deep peace.
Dhyan Kamya
We're missing your 'Klartexts' since quite a while and now Satyananda… Remembering hilarious moments spent together in the gardens of our Beloved Master. Salam, dear friend, through the open windows of our house of love we're reaching out to you…
Premdeva with Beloved
Dear Satyananda, thank you for your words, your books, your spirit. We were not close friends, but we knew another, and it was always a great pleasure to meet. Fligh high! I will remember you always with a warm feeling in my heart,
Sakino42VB
We bow in love.
Kara & Girisho
Beloved, thank you for being in my life???
Anurakti
Thank you, Satyananda, for sharing yourself with us. Love from
Arun
With tears in my eyes I read today, 22.4.2017, that Satyananda passed away. These last three weeks I read his book, Ganz entspannt im Hier und Jetzt, after years again. It is this book that brought me to Osho in 1980. I met Satyandana years later in Rajnesshpuram. He was driving the bus which picked us up from Antelope. Later I took part in one of his writing seminars. This encouraged me to write my own experience of my commune time in Germany, when I was living in the Cologne Commune. For me he was and is one of the sannyas Dinos like Veeresh, who represented the wild, mystic beginning of Poona One. To look into Osho's eyes was one of the greatest experiences I have ever had in my life. Thank you Satyananda, you made that possible. Love, Light and Laughter,
Anand Apurvo